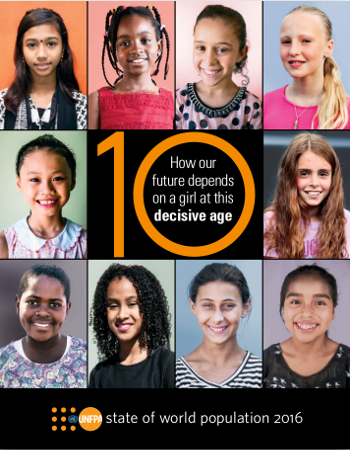 "When a girl reaches age 10, her world changes. A flurry of life-changing events pulls her in many directions. Where she ends up depends on the support she receives and the power she has to shape her own future. In some parts of the world, a 10-year-old girl, on the verge of adolescence, sees limitless possibilities ahead and begins making choices that will influence her education and, later, her work and her life. But in other parts of the world, a 10-year-old girl's horizons are limited. As she reaches puberty, a formidable combination of relatives, figures in her community, social and cultural norms, institutions and discriminatory laws block her path forward. By age 10, she may be forced to marry. She may be pulled out of school to begin a lifetime of child bearing and servitude to her husband. At 10, she may become property, a commodity that can be bought and sold.
At 10, she may be denied any say in decisions about her life. At 10, her future is no longer hers. It is determined by others. Impeding a girl's safe, healthy path through adolescence to a productive and autonomous adulthood is a violation of her rights. But it also takes a toll on her community and nation. Whenever a girl's potential goes unrealized, we all lose. Conversely, when a girl is able to exercise her rights, stay healthy, complete her education and make decisions about her own life, she - and everyone around her - wins. She will be healthier and, if she later chooses to start a family, her children will be healthier. She will be more productive and make a better living and in turn make the world a better place. The new United Nations 2030 Agenda for Sustainable Development and its accompanying 17 Sustainable Development Goals aim for equitable, inclusive development that leaves no one behind. This 15-year plan promises to help transform the futures of millions of 10-year-old girls who have traditionally been left behind.
At the same time, many of the Sustainable Development Goals may only be achieved if everyone's potential - including that of all 10-year-old girls - is realized. Chief among the Goals is a vision for a world without poverty. But how much progress can we expect if the enormous potential of girls remains stifled and squandered? In many ways, a 10-year-old girl's life trajectory will be the true test of whether the 2030 Agenda is a success - or failure. With support from family, community and nation, and the full realization of her rights, a 10-year-old girl can thrive and help bring about the future we all want. What the world will look like in 15 years will depend on our doing everything in our power to ignite the potential of a 10-year-old girl today."
Dr. Babatunde Osotimehin
United Nations Under-Secretary-General and Executive Director
UNFPA, the United Nations Population Fund
Leia o relatório completo
aqui (Inglês).
Leia o relatório completo
aqui (Português).