No momento em que se debate o investimento e a arquitectura do desenvolvimento, em matéria de prioridades, mecanismos e Ajuda Pública ao Desenvolvimento (APD) apresentamos um dos contributo da Action for Global Health. Uma ferramenta que na linha da folha informativa da P&D Factor, permite analisar a APD e a APD em Saúde e rastrear desempenho real do país doador. A Action for Global Health é uma rede europeia de Organizações Não Governamentais (ONG) que defende direito à saúde para todos e os Objetivos de Desenvolvimento do Milénio (ODM) de saúde.
A apresentação abaixo foi elaborada por Marco Simonelli (Action for Global Health, especialista em APD).
The process and debates on the redefinition of ODA are currently underway by the OECD, governments and civil society organizations (CSOs). Action for Global Health (AfGH) has developed a tool to unpack ODA and health ODA, and to track the real donor's performance.
ODA is not simply a flow of money from donors to recipients: there are several component which often does not even leave the donor country, or which should be paid back by recipient with interest.
AfGH scrutiny of ODA identifies items that do not represent real transfer to developing countries (debt, refugees in donor countries, student costs, admin costs), but are part of figures published by OECD;
After deducting these components it is possible to obtain real resource transfers that have the potential to promote human development;
A clear distinction is made between ODA grants and loans: lending is problematic for essential areas of human development, i.e. countries with limited resources and social sectors such as health AND Loans represent a minor financial effort, as transferred amounts are repayable;
Furthermore, AfGH determines the amount received from developing countries due to loans repayments - principal and interest (the latter are not considered in OECD figures on net ODA flows), in order to calculate the net transfer of ODA grants;
The ODA volume is then combined with the economic capacity of a Donor Country and this make us able to determine the real effort of a Donor.
Ongoing negotiations on how to shape the post-2015 Framework, discussion about the relevance of Official Development Assistance, the rise of a new paradigm of 'aid for trade', which appears to have been adopted by several donor countries, and the increasing involvement of the private sector in development risks marginalising 'non-productive' sectors such as health in this new era of sustainable development. This shift means that governments are placing less emphasis on a rights-based development cooperation and focusing more on aid as one of the potentially 'profitable' components of foreign affairs. This is amplified further by the use of loans and 'phantom aid1'- 'aid' which never actually leaves donor countries, or simply rebounds in the form of interest.
To ensure that we can hold our governments to account, and to make our ODA and ODA for health findings more accessible, we have developed an online tool which helps you to see how much countries are really donating and track patterns of aid.
Through our tool you can:
See how your European country is performing on ODA for Health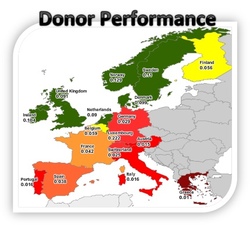 Click on the map to find an overview of:
General ODA Disbursements by 17 major donor countries in volume and in % on Gross National Income (GNI)
ODA Disbursements for Health in volume and % on GNI
The importance of health in relation to total ODA
The proportion of loans* instead of grants that your government is giving to developing countries
How do European countries provide aid?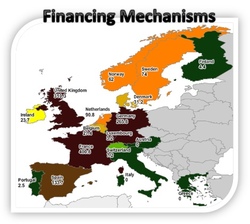 Click on the map to find an overview of:
Look at the proportion of aid that is donated bilaterally
See which multilateral organisations get support from European donors
Which countries receive European aid for health?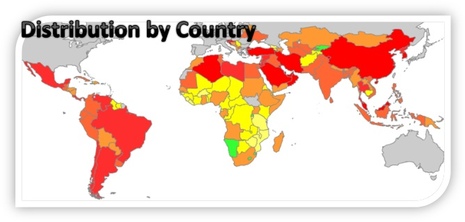 Click on the map to look through a huge range of recipient countries and see disbursements:
In volume (US dollars)
Per captia: By recipients / donor geographic priorities
Distribution to Lower and Middle-Income Countries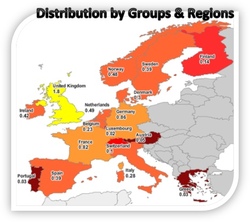 Click on the map to find out:
How much ODA for health European countries give to low-income and middle-income countries
How European countries disburse this aid through bilateral and multilateral mechanisms
---
1 - Phantom Aid or 'Non-transfer items' include debt relief, imputed costs for students from developing countries in donor countries; costs for refugees in donor countries; and administrative costs.